New Construction
Are you building a new home, barn or business? All the information you need is right here.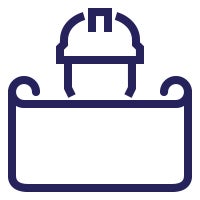 NEW CONSTRUCTION
WCEC is a member-owned electric cooperative. Unlike investor-owned electric companies, our members own the cooperative. WCEC is a not-for-profit organization that strives to keep rates affordable while maintaining safe and reliable electric services for its members. What this also means is that when WCEC accumulates funds in excess of what it needs to run the business, the excess funds (patronage capital) are returned to the members at regular intervals approved by the Board of Directors. The cooperative model is a unique one and focuses, more than other business models, on creating real value for its member-owners and delivering the best service possible.
When a member wants to connect an electrical service to WCEC's electrical distribution system where no connection currently exists, WCEC must add equipment to its electric system. This situation arises when a member is, for example, building a new house or a business is adding on to their facility. When this happens, WCEC asks the member to contribute financially to adding the additional equipment needed to make this new connection. The request for the member to contribute to the expansion of the electrical system is called a 'contribution to construction.' Part of the cooperative business model is that members contribute equitably to the capital of their cooperative. WCEC requests a contribution to construction when a member asks for a change to the electrical system that primarily benefits them and does not specifically benefit other members. Seen from the other members' vantage point, it would not be fair to spread these costs among all members when the benefit accrues to only one member.
---
Before You Call
Our Engineering Department will need the following information when you call to begin the staking process:
9-1-1 Address of the New Location
Exact Location of Meter on the Site
---
New Construction Resources
Meter Loop Specifications & Clearances