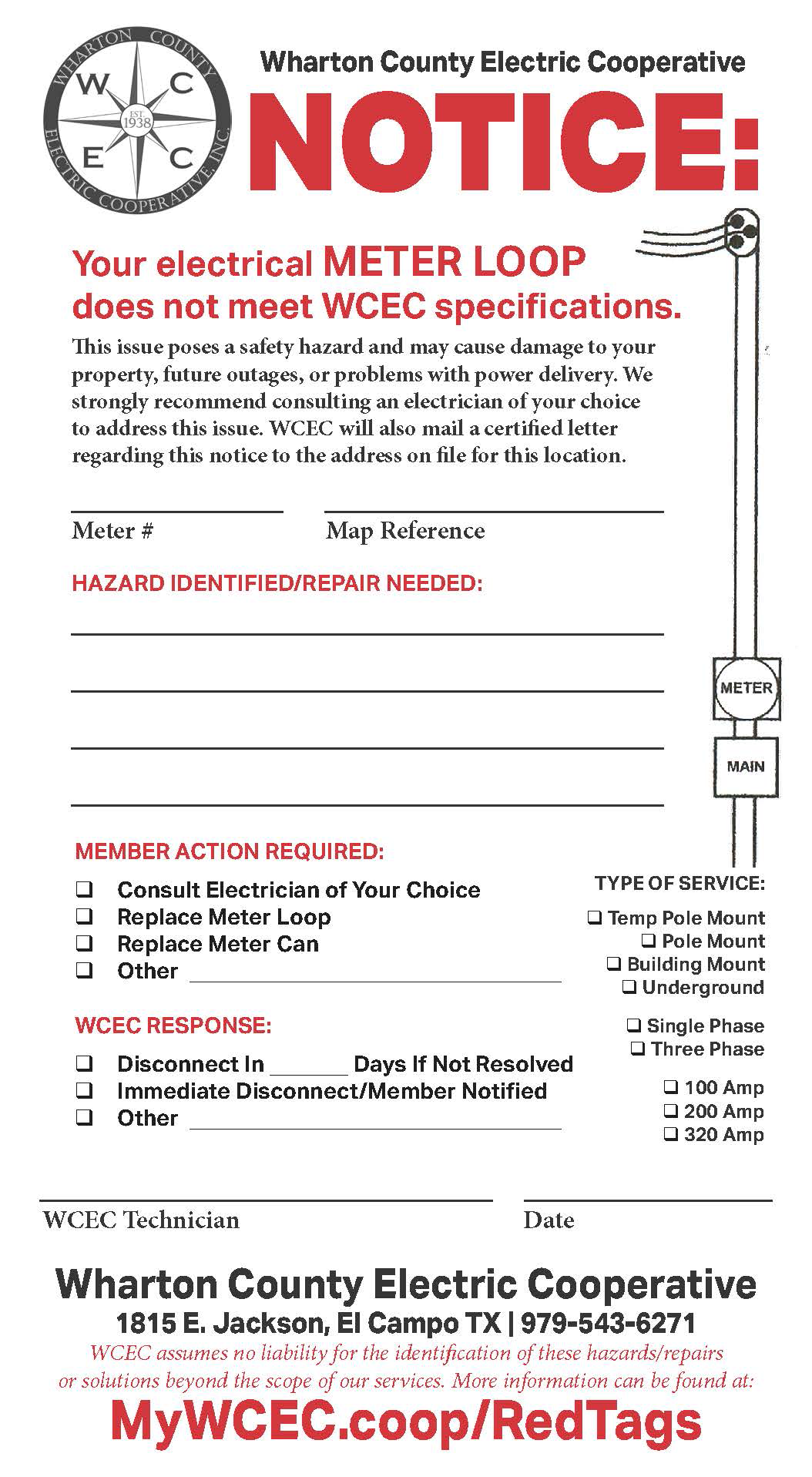 RED TAG/METER LOOP NOTIFICATIONS
 
Receiving a notice that your meter loop does not meet specifications indicates an issue at your property may pose a safety hazard or cause damage to your property, future outages, or problems with power delivery.
The meter loop (meter service entrance) is the assembly of equipment that allows the flow of electricity from WCEC's electric grid to your home or business. A meter loop may consist of the weatherhead, the service mast or riser, and the meter can (meter enclosure). According to WCEC's tariff, the member shall provide the service entrance, conductors, and any receptacles for the receipt of electric energy. The member is responsible for the service wiring in accordance with the National Electric Code (NEC), WCEC's Meter Loop Specifications, and any other applicable city/county electrical wiring regulations and specifications. 
WCEC's linemen and technicians will inspect your meter loop and other member-owned equipment connected to the WCEC grid during repairs, outage restoration, meter exchanges, or routine maintenance. If a hazard or a needed repair is noticed, our technician will leave a Meter Loop Notice door hanger (if possible) at the property at that time. A certified letter will also be mailed to notify the member of the hazard/repair. 
If you have received one of these notices, WCEC strongly recommends that our members consult with a qualified electrician of their choice to complete the needed repairs. 
Not correcting any reported issues may pose an electrical hazard that could cause bodily injury, damage to your property or WCEC equipment, future outages, and/or problems with your electric service.
The safety of your family, your property, and our personnel are of paramount importance to WCEC. If WCEC feels that the hazard warrants, power may be disconnected to the property to avoid any damage to your property or WCEC equipment or personnel. WCEC may allow the member a period of time to meet our specifications before disconnection occurs.
It should be noted that if electric service at a location with a meter loop that does not meet the required specifications is disconnected for any reason (including equipment damage, outage, or delinquent disconnect) or at the transfer of service to another member, the member-owned equipment must comply before WCEC can reconnect or transfer electrical service. Additionally, if damage to WCEC equipment occurs, WCEC reserves the right to bill the member for any equipment that must be replaced including labor charges and/or trip fees incurred in the repair.
WCEC assumes no liability for the identification of these hazards/repairs or solutions beyond the scope of our services. 
Meter cans (meter enclosures) are available to WCEC members at our office. 
Meter Loop Specifications are available here.