Use Less; Save More
Using Less Energy = Saving You Money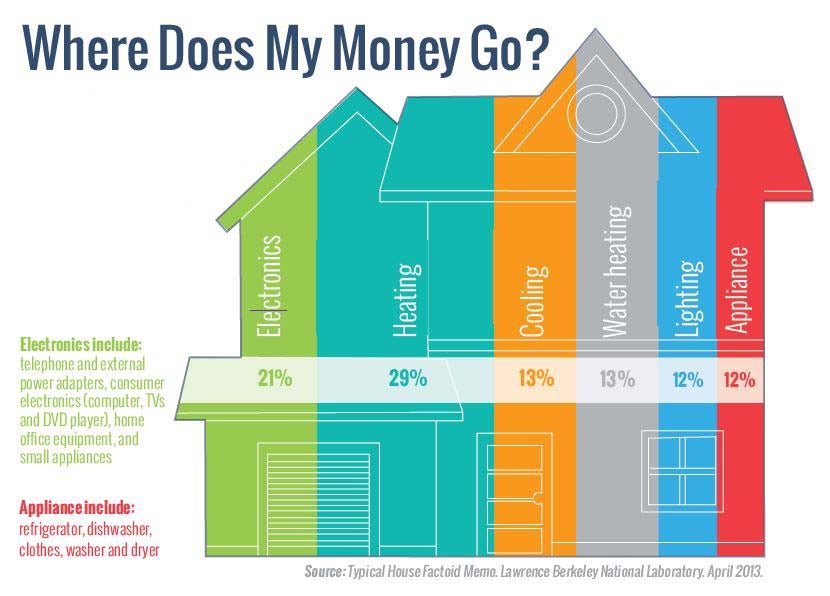 HOME ENERGY SAVINGS
Wharton County Electric Cooperative works hard to hold down energy prices. You can help control your energy costs by evaluating your home and using these simple steps to trim energy use.
The first step in reducing home energy costs is to know how much power you use. You can analyze your electric use through our SmartHub app each month. Keep in mind that research shows that your cooling and heating system is the biggest energy consumer in your home.
When implementing energy-saving measures, be aware of the energy savings compared to the investment.
Contact WCEC. We can help you analyze your electric use and schedule a Residential Energy Audit if necessary.
HOME ENERGY SAVINGS TIPS
Don't leave unnecessary lights on.
Turn off computers and other office equipment when they're not being used, especially overnight and on weekends.
A one-degree increase in heating setpoint or reduction in cooling setpoint can increase energy use by 3 – 5%. 
Taking long showers runs up the water heating (and water/sewer) bills.
Plug electronic devices such as cable boxes, printer, and TVs into power strips to turn off during vacation or long periods without use. Smart power strips make it an easy task to save money!
Replace showerheads with low flow showerheads.
When replacing your water heater consider a heat pump water heater which is a much lower operating cost.
Heating, ventilating, and air conditioning (HVAC) uses the largest chunk of your home energy dollar. Keep it running "lean and mean."
HVAC systems should be checked to verify they are moving the correct amount of air. An HVAC technician can tell you if it is.
Heat pump and air conditioning systems should be checked annually to verify they are properly charged, strictly in accordance with manufacturer guidelines.
Inside and outside coils should be kept clean and free of debris.
Gas furnaces should be tuned for maximum combustion efficiency.
Change HVAC air filter monthly. We recommend low air flow resistive filters.
Have an HVAC technician check carefully for duct leaks. Leaks that are found should be sealed with fiberglass mesh and mastic sealant.
Leaks at the return, air handler and supply can be a major source of high bills. Mobile homes check at the grill, cross over duct and down flow air handler, for leaks.
Air that transfers in and out of homes through cracks, crevices and holes increases energy consumption. Here are some helpful tips to avoid air infiltration:
Seal around pipe penetrations coming through walls.
During hot and cold weather, ensure windows are closed tightly and locked.
Ensure weather-stripping around doors and windows is tight.
When your fireplace is not operating, its flue should be closed tightly, with
a sign hanging from the flue handle warning it is closed.
Check the ceiling behind the cornice of built-in bookshelves for holes cut during construction.
Attic accesses stairways should fit tightly into the ceiling and be carefully weather-stripped using insulated sheathing board.
Remove the whole-house fan if not used and seal and insulate.
Make sure your outside dryer vent door closes when the dryer is not in use.
This requires cleaning away lint accumulation periodically.
Your water heater works with many of your home's other systems.
Make sure your water heater is set at the lowest point. Try setting it to 120°.
For older washers, set the water level to the amount of clothes to be washed.
Insulate accessible hot water lines.
Overfilling your washer can increase your energy use.
If your water heater is located in an unconditioned space, consider installing a thermal wrap around it. Take care to install it in accordance with the tank and wrap manufacturer instructions.
Take a look at your home's lighting. Consider these points:
An LED light uses 1/5th the energy of incandescent lighting and lasts up to 50 times longer. Consider replacing incandescent lighting with energy-saving LEDs. They use about one quarter of the energy, last much longer and give off less heat.
LED lights have different colors, soft white or 3,000 K bulbs are best for indoor use.
Turn off lights when not needed.
Don't leave unnecessary lighting on during the day.
Take a look at the security lighting you use at night. Check with your Touchstone Energy cooperative to see if it can help save you money by installing a pole-mounted outdoor light.
Smart bulbs, outlets and switches allow you to save energy by customizing a schedule that fits your family's needs.
Trim your refrigerator's energy use.
Make sure refrigerator and freezer seals fit tightly when doors close.
Keep outside coils clean. Dirty coils make your refrigerator compressor work longer to remove heat.
Setting your freezer below 0° uses extra energy.
Setting your refrigerator below 37° uses extra energy.
Ensure refrigerator door seals are tight and coils are clean.
Replace seals if they no longer seal.
Eliminate unnecessary refrigerators.
Drying clothes uses a lot of energy.
Don't over-dry your clothes. If 50 minutes works, don't set to 70 minutes.
Make sure to clean the inside lint filter before each drying cycle.
Periodically check your flexible metal dryer vent hose to ensure it is still tightly connected and not kinked.
Dryers with service problems should be replaced with an Energy Star® rated machine.
Wash clothes in cold water.
Replace old washers with an Energy Star® Rated system. They provide great savings from lower water use and fast spins that reduce the need for drying.
If you have insulation in your attic graded at R-19 or less, consider bringing it up to R-38 in  moderate climates and
R-49 in cold climates. In cold climates, if you have floor insulation graded at R-11 or less, consider bringing it up to R-25.
Make sure there are no openings from the attic into the home, e.g., air ducts, openings around chimneys, open cavities into the home.
Windows leak heat. If you have single-pane windows, consider doing the following:
Tighten and weather-strip your old windows and then add storm windows.
Close shades and drapes during the day to help keep your home cooler in the summer and warmer in the winter.
In colder climates, "low-e" coatings on glass can help reduce heat loss through windows.
In hot climates, consider adding solar screening to west-facing windows that catch a lot of heating late in the day. Solar screening is sold at many home improvement stores.
Plants that shade the house help too.
Some of the work you will want to complete will require the services of a contractor. When selecting a contractor, keep in mind that the best price is not always the best value. Here are some questions to ask when deciding who to use:
How long have you been in business?
Can you provide proof that you are state-licensed and carry workers' compensation insurance?
Can you provide the names of neighbors who have used your services?
Are you a member of the Better Business Bureau?
Energy Solutions Articles
COMMERCIAL ENERGY SAVINGS
Using energy more efficiently improves your bottom line. WCEC and our commercial members share a common goal: using energy as efficiently as possible. And when it comes to commercial energy, the savings add up quickly.
There are numerous no-cost and low-cost ways to save energy. Here are just a few:
Turn off lights and office equipment at night and when not in use.
Keep windows and doors closed to prevent air loss.
Check for proper insulation throughout the building.
Clean and replace light fixtures with LEDs.
Regularly clean or replace the filters in your heating and cooling system.
Adjust HVAC temperature settings. Changing one degree can reduce heating and cooling costs by 2- to 4- percent. Consider Wi-Fi smart thermostats for greater control.
Review your indoor lighting usage.
Turn off lights in unoccupied areas of the building.
Turn off display case and other lighting when not in use.
Switch from incandescent to compact fluorescent lamps in canisters or recessed fixtures.
Replace fixtures using LEDs and evaluate the savings of replacing T-8 or T-5 fluorescents.
Replace metal halide lamps with LED bulbs or fixtures. 
Use T-8s and LEDs to light display cases.
Use LEDs for exit lighting.
Install motion-activated light switches and light fixtures.
Review outdoor lighting use.
Consider where Wi-Fi is available at app-based light controls with sunset and hours of operation reprogrammed remotely.
Use sun trackers or photocells in conjunction with electronic timers.
Replace incandescent lighting with more efficient HID or LED lighting.
Assess plug loads.
Use smart power strips to control electronic equipment (including computers) to reduce phantom load.
Set timers to turn off equipment - such as coffee makers and water coolers - when not needed.
Utilize computer power management settings.
Consolidate multiple servers into a single machine.
Install occupancy sensors or timers on vending machines.
Use portable heaters or fans wisely: turn them off when you leave the room.
If replacing equipment - such as a refrigerator or computer - purchase an ENERGY STAR®- qualified model.
Maintain your HVAC system.
Keep indoor/outdoor coils clean and change filters regularly.
Ensure that the HVAC system's airflow is correct.
Check electrical connections and drive belts.
Lubricate motors and blower assemblies.
Maintain correct refrigerant charge.
Correct duct leakage.
Minimize HVAC runtime when facility is closed.
Consider variable speed heat pumps and mini-splits for savings and improved comfort.
Ventilate properly.
Meet OSHA standards for occupancy numbers.
Meet ASHRAE Standard 62.1 2016 for indoor air quality and safety.
Kitchens should have adequate air circulation.
Evaluate the savings from variable speed vent exhaust hoods.
Control make-up air with exhaust.
Bathroom ventilators should be off when facility is closed, if local codes permit.
Ensure make-up air is drawn from an appropriate location, e.g., don't pull air from dumpster area.
Properly balance make-up air with exhausted air.
Check damper positioning and the building envelope's air tightness; stuck dampers and a leaky building can result in over-ventilation, which wastes energy.
Maintain your refrigeration equipment.
Clean refrigeration coils regularly.
Keep doors and seals on walk-in units in good repair.
Ensure that units are properly charged with refrigerant.
Check for ice buildup, which can occur because of air leakage.
Ensure that units are defrosting properly.
Check temperature settings of refrigerators.
Install low-temperature occupancy sensors or timed switches in walk-in coolers and freezers.
Evaluate the savings from higher efficiency fans and compressor.
Check your water heating equipment.
Insulate water heaters.
Set water heater supply temperature to minimum local requirements.
Control water heaters based on periods of need during the day.
Ensure that water heaters are located to maximize efficient hot water delivery.
Explore opportunities for heat recovery.
Ensure re-circulating hot water system is operating properly. Shut off when not needed.
Consider heat pump water heaters for spot cooling and lower operating costs.
Check your motor operations (for motors operating more than 2,000 hours/year).
Ensure proper lubrication and operating temperature to maximize motor life and avoid bearing failure.
Rather than rewinding motors of less than 25 hp, replace them with energy-efficient motors.
Size motors for the load.
Ensure that no contamination or water is getting into motors.
Use an adjustable speed drive for motor-driven equipment.
Check for compressed air leaks. Evaluate savings from variable speed air compressors and consider replacing air tools with electric battery-powered tools.