ELIZABETH JEFFERY AND ISABEL LILIE EARN "TRIP OF A LIFETIME"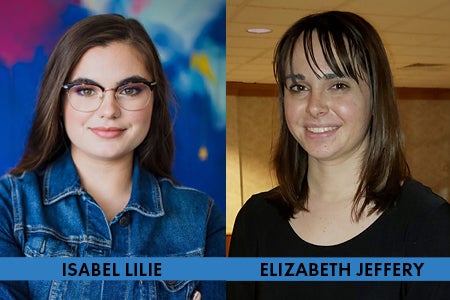 Wharton County Electric Cooperative is pleased to announce our 2020 Government-in-Action Youth Tour Delegates are Elizabeth Jeffery and Isabel Lilie.
Elizabeth is a senior at Boling High School and is the daughter of David and Jennifer Jeffery of Garwood (District 1).
Isabel is a senior at Louise High School and is the daughter of Mark and Melissa Lilie of Louise (District 4).
Both Elizabeth and Isabel are members of the National Honor Society, Student Council, Fellowship of Christian Athletes, POWERSET, and Workforce Industry Training. They both are actively involved in band and compete in UIL Academics.
Elizabeth also runs track and cross country and is a member of the Library Club. In her free time, she says, "I very much enjoy playing flute and piccolo. I am also very interested in Korea's culture and history. For the past four years, I have been teaching myself Korean and am now able to read short stories and write complex sentences."
Isabel is also a member of the FFA, the Duke Talent Identification Program, and is Louise High School's Announcer. In her free time, she enjoys playing musical instruments, baking, drawing and oil painting. She says, "I enjoy researching experimental science trials and innovations in technology and science."
"We are fortunate to have had an increased interest in the Youth Tour program over the last few years, WCEC's CEO/GM Gary Raybon says. "I'm pleased to be sending two delegates this summer."
The Government-in-Action Youth Tour is a youth leadership program sponsored by Wharton County Electric Cooperative and organized by Texas Electric Cooperatives and the National Rural Electric Cooperative Association. The trip allows young adults the opportunity to tour national historic sites, experience cultural diversity, visit U.S. congressional offices, and learn about electric cooperatives and the energy industry. The trip has been called a "Trip of a Lifetime" by many who have participated.
Elizabeth and Isabel will join over 1,500 youth delegates from electric cooperatives across the nation for the trip in June. Each year, Wharton County Electric Cooperative sponsors at least one high school student from our membership for the trip.
For more information about Youth Tour, please contact Brenda Silva at (979) 543-6271 or visit www.mywcec.coop/youthtour.