Another Record-Breaking Annual Meeting
For the second year in a row, Wharton County Electric Cooperative members broke the voting record at the 2021 Annual Meeting of Members.
"A total of 784 members drove through to cast their ballot for the 2021 Board of Directors," WCEC GM/CEO Gary Raybon reports. "Changing the location to the El Campo Middle School campus seemed to do the trick to alleviate any traffic problems. The campus also allowed for more registration lines to be set up so wait times were dramatically reduced as well.
"We are still amazed by the number of members who came out. Having so many members participate in the annual meeting has been a silver lining during this pandemic."
As a member-owned electric cooperative, WCEC is governed by a Board of Directors representing and elected by the membership. Each year, the Annual Meeting of Members is held to present business reports to the membership and elect members to the board. Traditionally, a sit-down meal is served, and the business meeting and election are conducted in person. However, due to COVID-19 precautions, the meeting was held as a non-traditional, drive-thru meeting again this year.
Last year's annual meeting shattered the previous record of 498 voting members recorded in 2009 with 760 members voting.
"For the first drive thru meeting, we didn't know what to expect," Raybon says. "This year we were better prepared. We had plenty of ballots and attendance gifts – no IOUs were necessary!"
After the ballots were totaled, WCEC members voted to re-elect Gus Wessels Jr. in District 6 over Brent Cerny. In District 3, Judy Peter defeated Richard L. Clark. In District 9, Calvin Pfeil Jr. was elected over Chris Barbee and Pamela R. Hunt. Peter and Pfeil will replace Frankie Peter and Peggy Glaze, respectively. Both had reached their term limits.
In addition, the Minutes of the 2020 WCEC Annual Meeting, the WCEC Financial Report, and the President's & Manager's Report were approved by those submitting ballots.
Although an official presentation was not held, WCEC recognized the following Employee Service Milestones in the Annual Report: Patsy Metting for 45 years of service; Luz-Maria Arredondo for 40 years; Jody Domel for 10 years; and Ricky Garza Jr, Daniel Gutierrez, Brayden Payne, and Andrew Rothbauer for 5 years of service. The annual report also honored three retirees from the previous year. Service Lineman Pat Cerny retired in January after 32 years of service, H.R. Administrator Diane Barger retired in March after 41 years of service, and Manager of Engineering Richard Jalowy retired in early June after 44 years of service.
Also due to COVID-19 precautions, the 2021 Government-in-Action Youth Tour was canceled. In lieu of the trip, $2,500 scholarships were awarded to three graduating high school seniors from the WCEC membership. The scholarship winners were Kayla Bolfing of El Campo High School, Cale Chambers of El Campo High School, and Trent Villarreal of Rice High School.
As is tradition, all voting members were included in a drawing for door prizes which was held on Facebook Live the morning after the meeting. The grand prize winners were Donald Capak, Addrina Budaus, and Milton Johnson each receiving a $100 Electricity Credit as well as Yajaira Pedroza who won a $300 Electricity Credit.
"Overall, the meeting was very successful with so many of our members participating," Raybon says. "We want to thank everyone who came out. We are especially grateful to the El Campo Middle School for allowing us to use the campus. As always, we look forward to seeing you all next year."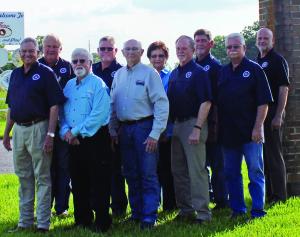 2021 Board of Directors
The WCEC 2021 Board of Directors are: (l-r) Patrick Kubala, Gus Wessels Jr. (Asst. Secretary/Treasurer), Calvin Pfeil Jr., Samuel Craig Hardin, Paul Phillips Jr., Judy Peter, Rick Graff (President), Jim W. Harton (Secretary/Treasurer), John Roach (Vice President) and WCEC GM/CEO Gary Raybon.