WCEC's G&T COOPERATIVE GIVES BACK TO OUR COMMUNITY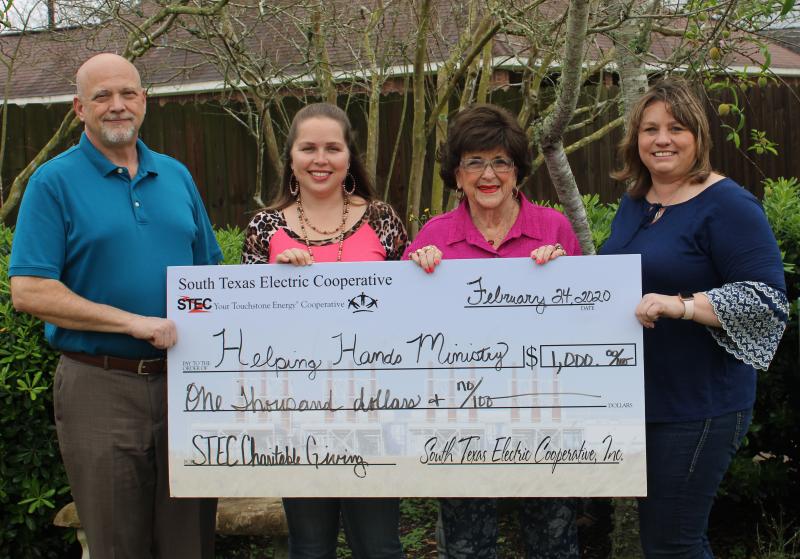 On February 24, 2020, South Texas Electric Cooperative (STEC) provided a charitable donation in the amount of $1,000 to Helping Hands Ministry through STEC's Charitable Giving and Corporate Support Program. 
Pictured left to right are: WCEC GM/CEO and STEC Board Member Gary Raybon, STEC Representative Rebecca Hauboldt, Helping Hands' Ann Strarup, and STEC Representative Ina Lampman. 
WCEC is a member distribution cooperative. We do not generate the power that flows through our lines. Our power supply is provided by South Texas Electric Cooperative (STEC), a generation and transmission (G&T) cooperative that serves WCEC and seven other member distribution cooperatives in South Texas.
STEC's headquarters facility is located at the Sam Rayburn Power Plant Complex on the Guadalupe River just outside Nursery, Texas. Transmission line and substation service facilities are also located in Pearsall, Texas and Donna, Texas. Power provided by STEC to its members is generated from a variety of energy sources, including wind, lignite, natural gas (NG), diesel fuel, and hydroelectric. To find out more about STEC, visit www.stec.org.