We Need Your Opinion
Wharton County Electric Cooperative strives to provide the best member service each and every day. Comments, questions and concerns from our membership are always welcome and often serve as a springboard for new and better services.
This month, WCEC is conducting a member satisfaction survey. The survey is being conducted by Inside Information, a cooperative service company specializing in surveys, marketing and research.
"This will be second time WCEC is partnering with Inside Information for our member survey," WCEC GM/CEO Gary Raybon states. "We were pleased with their professionalism and responsiveness for our last survey in 2019. We look forward to hearing from our members and hope for honest opinions to help us grow as a cooperative." Survey questions range from overall member satisfaction to how reliable our services are to member feedback on ancillary services such as the Internet, energy solutions and power sources.
A random selection of members has been chosen to receive an email or postcard with an invitation to complete the survey. We ask that you, our members, participate if selected. Your opinion helps shape the future of WCEC.
For any questions about the survey, please call 979-543-6271.
SAMPLE EMAIL INVITE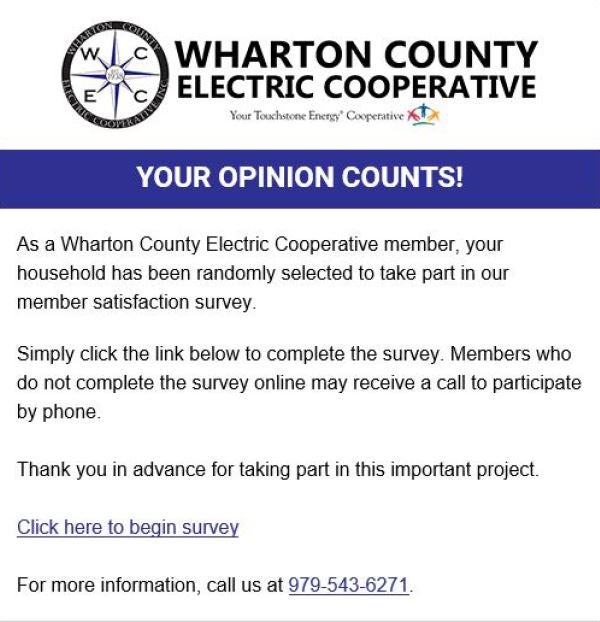 SAMPLE POSTCARD