WCEC WEBSITE GETS A FACELIFT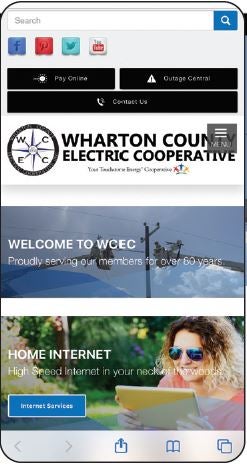 Welcome to WCEC's new website!
WCEC's website has been redesigned and updated using the latest version of Touchstone Energy's Co-op Web Builder.
"Co-op Web Builder is the hosting platform that is provided to us through our Touchstone Energy Cooperative membership. It offers us a quick and easy way to manage our website as well as making sure our site is safe and secure," says WCEC GM/CEO Gary Raybon.
"The new website design is meant to make finding information easier for our members. Most importantly, it is now completely mobile. All pages of the website are available on your smartphone or tablet with an almost identical design."
In addition to the mobile-friendly design, the website offers:
Direct access to SmartHub from the desktop home page

Easy to follow menu links in mulitple locations throughout the site

New "Outage Central" - a page dedicated to outage information including prevention, preparation, and restoration efforts after major outages

New "Electricity 101" and "Kids Korner" pages

New "Use Less; Save More" page for energy efficiency tips
"Keeping our members informed and up-to-date on what is happening with at co-op is important to us," Raybon says. "Along with the new website, we are expanding our social media presence to Twitter, Pinterest, and YouTube. We want to reach our members where they are whether that be here in the magazine or online."